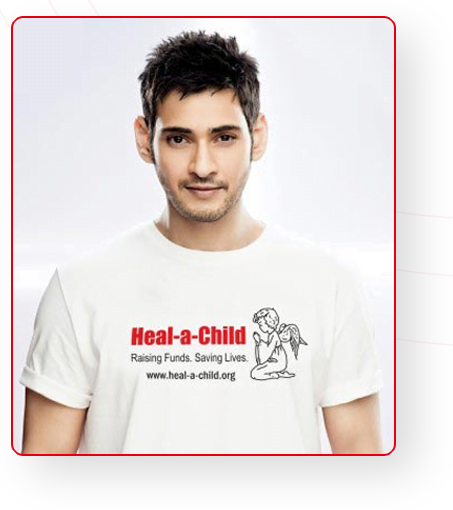 I like organizations like Heal-a-Child. They are amazing. If they can help children, nothing like it, because I think children are beautiful
Heal-a-child is truly a wonderful organization and is especially close to my heart. My son was a premie and had to stay in NICU for some time. We had a really tough time then. In our case, we could afford to get him the needed treatment. I cannot imagine how it is for parents who are not able to afford treatment for their sick children. I am really proud of Heal-a-Child's efforts to save such children. By financing their treatments and hospitalizations, Heal-a-Child has saved hundreds of kids. Heal-a-Child has supported many children in Special Neonatal Care Units. They are growing from strength to strength. They can do all this because of your generous donations. I encourage everyone to contribute with donations and support this wonderful cause.
Brief Bio and information on association with HAC:
Mahesh Babu is a famous Indian Film actor, producer, and media personality known for his extremely popular Telugu Films including his recent blockbusters Bharat Ane Nenu and Maharshi. He is one of the finest and most popular actors of the Telugu Film Industry, often referred to as the Prince of Tollywood. He is one of the most decorated Tollywood actors with many awards and recognition for his name. He has won eight Nandi Awards and five Filmfare awards among others.
He is an active humanitarian and philanthropist. He is a strong advocate for causes that focus on saving sick children. That is why he decided to become the Goodwill Ambassador for the non-profit organization Heal-a-Child. His association with Heal-a-Child spans ten years now. In this duration, he has taken time to meet patients, especially the kids who are his fans. As he is one of the most influential film stars, his presence, and his voice has helped Heal-a-Child raise donations each year.
Heal-a-Child thanks Mahesh Babu for his valuable support.
Pictures with supported children